REISHI MAGIC MUSHROOM
Known by some cultures as the ?mushroom of immortality,? Reishi magic mushroom has been used for thousands of years to increase vitality, bolster the immune system,?support cardiovascular health?and?promote longevity*.
Reishi mushrooms are rare mushrooms that grow at the base of deciduous trees. Some people claim that reishi mushrooms can boost the immune system, fight cancer, and relieve symptoms of many other health conditions.
Appearance:
You won?t find Reishi poking out of the ground in a typical stem and cap shape. Instead, they grow on dead or dying hardwood trees in either ?antler? or ?conk? form.
These growths are known as the fruiting body of the mushroom.
Because Reishi magic mushroom grow out and not up, they?re known as bracket fungi or shelf fungi (although when cultivated, they can definitely be made to grow ?up?).
The mushroom is also classified as a ?polypore,? meaning that, rather than gills, the underside is composed of thousands of pores and is lined with cells called basidia that make spores.
When it?s time for Reishi magic mushroom to reproduce, the basidium release the spores into the air for dispersal to new areas.
THE SHINY SPECIMEN
Young Reishi magic mushroom starts off white, and the underside retains this color. The kidney-shaped conk, however, turns red or orange and develops a sheen as it grows.
In fact,?Ganoderma?means ?shiny skin,? and the wet or painted appearance has earned the mushroom the nickname of ?varnished conk.?
The sheen fades as the mushrooms age, making older specimens look dull. Dullness may also indicate recent spore release; some spores settle pretty close to home!
How big can Reishi get? It?s normal for conks to be 1 to 2 inches thick and less than 12 inches across, but they can get much larger under certain conditions.
How to grow Reishi Magic Mushroom
Reishi mycelium is strong and resilient, and when it encounters some sterile grains, it really shines. The type of grains you use here really doesn?t matter, though according to the low-key bible of mycology, Growing Gourmet and Medicinal Mushrooms, cereal grains are best.
The most important thing to know when learning how to grow Reishi magic mushroom and their mycelium is that Reishi mycelium can become very tough.
So, if you?re like us and grow all of your grain in jars, you want to make sure it doesn?t overmature and completely encapsulate all your grains. If you let it get to this point, it becomes very difficult to remove the grain spawn from the jar.
This stage of the growing process is no different than before and the?ideal incubation temperature is between 70-80?F (21-27?C).
Growing the Reishi Magic Mushrooms
Alright, we?re getting to the good stuff now!
Here at the Fungi Academy, we?ve grown A LOT of Reishi. And many times, it?s felt like an accident.
Before diving too deep into what our weird, accidental experiments have taught us, let?s go through the recommended channels.
Supplemented Hardwood Sawdust
By far the most popular option, supplemented hardwood sawdust is the most common method to try when you want to learn how to grow Reishi mushrooms. Though the Master Mix is a staple recipe, this high of a supplementation is not necessary for Reishi growing. In fact, between 5 and 15 percent supplementation seems to be the sweet spot. For this nitrogen supplementation, some people chose to grind up some more grains, use coffee, alfalfa, beet pulp, or oat bran. But you can use all sorts of different sources.
So?now for our crazy experiments. We have successfully grown Reishi off of:
Coco Coir ?
Corn Cobs ?
Pine Wood ?
Other softwoods ?
Straws ?
Hardwood logs ?
We like to add about 2 percent gypsum to our substrate mixture for even higher yields.
Back to our experiments: we?ve learned that Reishi seems to do exceptionally well on only pasteurized substrates and hell, we?ve even had success fruiting them from cold water pasteurized corn cobs (completely not by accident, we promise)!
As for the Reishi kings, in China they grow Reishi from logs that are then buried beneath a few inches of soil. This method works really well, especially in humid, warm climates.
In a nutshell, when are learning how to grow Reishi mushrooms, it?s important not to hyperanalazye the process. Reishi mycelium is very forgiving and will surprise you with its tenacity!
Incubation Temperature:?70-80?F (21-27?C)
?Colonization:10 to 14 days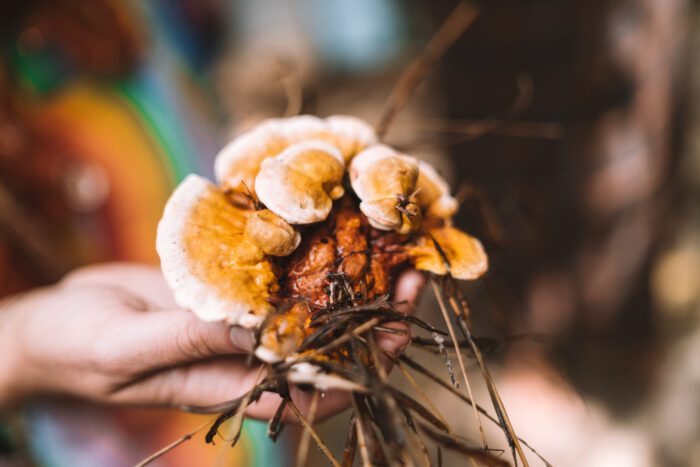 How to Grow Reishi Magic Mushrooms
In China, after burying the inoculated log, the farmers trim all the pins until only one remains. This creates a gigantic mushroom with, according to the farmers. ?All of the Qi of the organism in one fruit?.
In reality, there are many different ways to grow Reishi. It can deal with high CO2 environments and adapt to grow long, antler-like fruiting bodies. Since Reishi, like other mushrooms, grow towards the light, a high Co2 environment combined with changing the direction of the given light source can create amazing artwork.
Conversely, in high O2 environments Reishi mushrooms often can grow radially into half-circle, conk-like fruits.
But while the conditions determine the fruit morphology, Reishi mushrooms aren?t picky. Forget a Reishi mushroom grow bag and you may return to find it fruiting ferociously through the filter patch on your grow bag.
Generally speaking, these are the ideal conditions to create in your fruiting room when you?re learning how to grow Reishi mushrooms.
Primordia:?64?F (18?C) at 95% humidity
Fruit Body Development:?70-80?F (21-27?C) at 85-90% humidity.
After the antlers have grown to your desired length, open or cut the bag to increase oxygen levels. Then, be patient! Reishi can take very long to mature and you can let them grow for more than 3 months before harvesting!
There you have it: how to grow Reishi mushrooms from start to finish. It?s not only a great beginner mushroom to grow. It?s also medicinal and, if you turn your fruits into extracts, a great way to?turn your mushroom hobby into a profitable business.
How to take
People grind them into powder or use extracts to make supplements and other products. While their use is widespread, the evidence supporting any benefits is still lacking.
Precautions:
Reishi mushrooms may be harmful to people who have bleeding issues, are pregnant, or take certain medications.
One review of studiesTrusted Source?found that reishi mushrooms may help with boosting the immune system, but the authors would not recommend them as a first response to cancer. A few people reported side effects, which included:
?Dosage:
The right dosage of reishi mushroom extract or powder can vary widely depending on which form of the mushroom a person uses. It is important to check the right dosage that work for you.
Before taking a reishi mushroom supplement, a person should talk to a doctor. Supplements can interact with other medications, potentially causing adverse effects, and worsen some health conditions.
A doctor may be able to recommend alternative therapies and treatments that work better for people based on their medical history.
Duration of trip:
The effects of Reishi mushrooms can last for some few minutes to several hours. a qualified healthcare practitioner before taking Reishi mushroom
Reishi mushrooms Benefits
Reishi mushrooms are best-known for their purported effects in boosting the immune system and helping fight off?cancer. However, studies do not support the alleged benefits of reishi mushrooms.
The?Susan G. Komen foundation, a cancer charity, has found?insufficient or no evidence?that reishi mushrooms are effective in:
reducing symptoms of an enlarged prostate
treating memory loss due to?Alzheimer?s disease
reducing noncancerous tumors in the rectum or colon
treating clogged arteries
alleviating?stress
reducing?fatigue?from cancer
treating poisoning
improving blood sugar levels in those with?diabetes
getting rid of?stomach ulcers
healing?cold sores?and genital?herpes
reducing?human papillomavirus?in the mouth
treating?lung cancer
reducing fatigue
treating?altitude sickness
treating?hepatitis B
alleviating?asthma?and?bronchitis?symptoms
curing liver disease
alleviating pain from?shingles
treating kidney disorders
boosting the immune system
treating viral infections
curing?HIV
treating?chronic fatigue syndrome
treating?prostate cancer
helping people sleep
Macrodosing?:
Macrodosing is the practice of taking large doses of Reishi mushroom. Macrodoses can range from 2 grams to over 10 grams. It is important to note that Reishi mushroom can vary in strength, so it is important to start with a low dose and increase as needed. The side effects of Aman
Microdosing:
Microdosing is the practice of taking small doses of Reishi mushroom. Microdoses can range from 0.1 grams to 0.5 grams.
Legality of Reishi mushroom
Cities including Ann Arbor, Michigan; Denver; Oakland, California; and Seattle, have passed measures that essentially decriminalize psilocybin mushrooms and sometimes other psychedelics derived from plants or fungi. The cities make no distinction between medical and recreational uses.
Alternatives:
If you are looking for an alternative to Amanita Muscaria mushrooms, there are many other types of mushrooms that can be used for their medicinal properties.
You can check our other mushrooms like?Albino A+ Magic Mushroom,?Mazatapec Magic Mushroom,?Penis Envy Magic Mushroom Strain,?Meanie Magic Mushrooms,?Golden Teacher Magic Mushroom,?Florida White (F+) Magic Mushroom